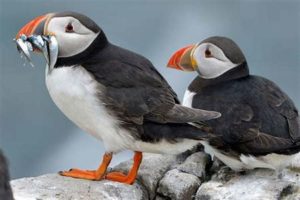 Farnes in Nesting Season
A four day trip to share the delights of north Northumberland, almost on our doorstep.
We aim to set off from Royal Quays on the morning of 20th June onboard Lian and return later on during Saturday 23rd. Exploration, anchoring and berthing in interesting, and often tricky, places will be the priority as opposed to mileage. There will be an opportunity for a swim! whilst I stay onboard on boat watch…….
Nesting season is June and you can expect to see hundreds if not thousands of birds. Novices and experienced are welcome, and any novices will be provided with a safety talk before 20th in order that we can get an early start, if appropriate. Cost £250 or two in the forecabin for £400. 20 - 23rd One place left, 13 - 16th FULL 
                                  A Clean Bottom
Lian being lifted back in the water at Royal Quays after the scrape and polish. My first practical is 5th March so all the rest needs re-assembling ready for the start of the practical season. Thank you Mark and Craig for an efficient lift-in!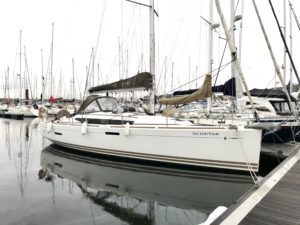 Go Irish in 2018
Just after the Easter Bank holiday we shall be departing from Largs and heading for Northern Ireland on a non hectic cruise with time to enjoy the boat, scenery and, of course, the 'black stuff'. Bookings have already been taken. The cost varies depending on bunking arrangements and from £595 for the week. Dates: April 4 - 11th. (Only limited space now available)
Northumbria Sailing 

is the leading provider of Sail Cruising Courses in North East England