Principal: Melvyn Wallhead, Ocean Yachtmaster™ & RYA Instructor
Mobile 0775 460 4092 or text   Home 0191 281 2018 (if onshore)
Postal address: 1 Anscomb Gardens, Newcastle upon Tyne NE7 7BB
Chief Instructor: Trevor Jefferson RYA Yachtmaster™ Instructor
CV Matters
Melvyn Wallhead, Ocean Yachtmaster™ has over 30 years of experience with sailing boats and would like to share this with you, so you too can enjoy the 'highs' of sailing a yacht on a warm day with a favourable breeze.
Melvyn is an RYA Instructor living in Newcastle upon Tyne with wife and son. He considers the North East and Northumberland to be an underestimated sailing area with such a fine coastline, complete with islands and castles, and superb bird life. If the weather is a bit unfavourable there's still plenty of level sailing in the River Tyne to enjoy in comfort.
24,000 sea miles with 700+ days at sea have taken Melvyn, as skipper, to four continents, around Britain and across Biscay to the Med and back. Norway, Baltic Germany, Netherlands, Canaries, Orkneys and Scottish Islands have also been explored. Yachts have been chartered in the BVI, Phuket, Baltic, Falmouth, Corfu & the Clyde. You can be sure that he has already made your mistakes at some stage and can sympathise.
We aim to be safe at sea but to learn to enjoy a challenge. A bit of fun too is all part of the scene and a drink in a bar of a new port after a day at sea is a delight to be savoured.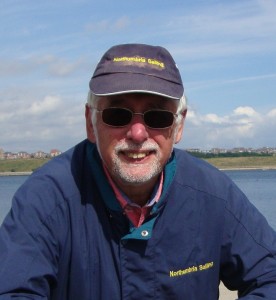 Melvyn Wallhead
Contact me via this form