Now where can I find such and such a thing, or who can do this for me? Knowing where to go for boat jobs and parts is an education in itself. My preference is to go to the small local guy when ever possible and keep the business in the North East.
Web pages aren't everything and over the next year I will try to add to this List. Suggestions are welcome.
Let's kick off with a very useful guy who is a source for stainless steel screws and fasteners. Try Tyne Tees Fasteners where they will sell you screws and nuts individually and charge ridiculously low prices. They are very handy for Royal Quays, being located at the southern entrance to the Tyne Tunnel Trading Estate, or call 07483 443 977 if you get lost
There are lots of web sites offering weather information and it's very tempting to 'shop around' for the most optimistic. I regularly use XC Weather for speed and clarity. For wave height information though this one is good. MyWeather2  Or try a coloured chart from the Met Office Met Office Chart
To see what Royal Quays marina looks like; Royal Quays marina
Try me on Google Earth at;  54°59'43.93″N, 01°27'10.56″W
In the 'Good Old Days' most cruising yachtsmen (oops) would sail dinghies first and really knew how to sail without an engine. Time moves on but, before your Day Skipper Practical, make sure you have this 'wind awareness'. Sailing Dinghy Hire in the Lakes; Glenridding  or  Ambleside or go and crew at Tynemouth or South Shields (dinghy) Sailing Clubs
Kielder have a friendly Sailing Club who do dinghy sailing days and RYA Courses. I'm told there's a dedicated team there and there you can enjoy the delightful surrounding s and the prospect of seeing an osprey in the season. Kielder Water Sailing Club
For information on the Tyne and weather; Port of Tyne
Have you ever thought spending money on a boat survey is a waste? Listen to this then; When selling my previous boat, a Moody S31, the buyers came up with a query at the very last minute. It was cracks (fissures). I went down to the Hamble armed with the survey I had commissioned when I bought the Moody. The survey referred to the same cracks and stated they were immaterial. The buyers were satisfied and the sale went through.  Phew!! This had been money well spent. To survey a boat Fiona has done a good job for me and can come quickly (she lives at RQ); Boat Surveyor
Sailmaker, Chandlery & Boat Fixing. I have known Rob Storrar from schooldays and Andy, now in charge, has been there a long time. Both have years of boat experience and the ability to advise. The advice is free – take it!  Storrar Marine
Selling or Buying a boat? Contact David Wood; Network Yacht Brokers  Dave is very experienced and knows his stuff.
Gas Check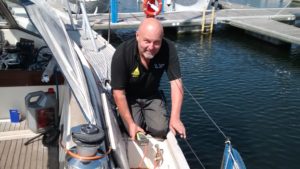 – I tried local man Bob Lydon of Tri-Tech, 07971 265 977 and it worked very well. He checked me over and was very pleasant, accommodating and on time. I now have gas certification. Tri-Tech Services