Northumbria Sailing  Adventures
These adventures are when we either charter a sailing yacht or take 'Lian' somewhere interesting and challenging. When weather and crew status permit we will do distances, often sailing through the night via the watch system. If this is not possible we will cruise looking for pleasant places to visit with good shoreside wining and dining facilities.
Trips in recent years have included the Orkneys, the Clyde, London Tower Bridge and a North Sea crossing.
We will endeavour to have you fully involved in the sailing of the boat and to consider your preferences. Alcohol will often be enjoyed when we are no longer underway. At the end of the trip you will have a log book filled and plenty of nautical adventures to tell.
2017 has seen a trip around Skye and one to Amsterdam. 
Go Dutch in 2018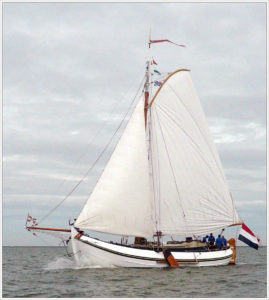 A fantastic opportunity to sail a 15 metre traditional Dutch flat bottomed boat. Saeftinghe started life in 1930 as a mussel fisher, commandeered by the German army during the War and was converted for cruising in 1997.
Saeftinghe sails out of Makkum in North Holland and we will explore the Friesian Islands and canals. It is not expected to be a strenuous week, nor with high mileage, but the opportunity to sail a very different boat with a lot of space and luxury. Sleeping quarters are all in 5 cabins and bedding is included, as well as cleaning.
On the first morning we will have four hours of tuition on sailing and canal procedure on this beautiful, traditional, boat. Then we shall be free to explore the inland seas and canals. 'I already did this once together with my wife.  On a bigger boat and a larger group.  It was brilliant…' Dutchman Peter
Saturday 30th June to Friday 6th July 2018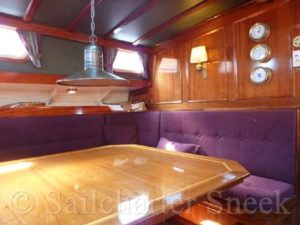 The sleeping quarters, for 10, are shown in red and consist of one double cabin plus four, each with bunks directly overhead or projecting. The width is a big 4.6m (Lian's is 3.5).Single Bookings will be bunked with another of the same sex. If a pairing is not possible you are lucky and you will be allocated the whole cabin for the same price!
 Each berth is £725. What is included: Sailing Tuition, Bed linen, Fuel & Berthing, End of charter cleaning. What is extra: Catering, Transport to & from Makkum & Personal Insurance Already half of the 10 spaces are spoken for
.
Have a Drink in Ireland
Northern Ireland is only 22 miles from Scotland at the narrowest Irish Sea Crossing, and I thought it was time this sailing area was explored, as well as the 'black stuff'.

Immediately after the Easter Bank Holiday we plan to do just that, and have chartered a 2013 built yacht, Scimitar, a Jeanneau 379, sailing out of Largs, a marina with easy access and excellent facilities. The pricing structure is aimed to give a variety of berths costing from £595.
The adventure is likely to appeal to many ability ranges, qualified and unqualified. Sailing holidays, especially in an area of outstanding beauty, give a healthy source of maritime experiences and tales. Instruction will be provided as well as the opportunity to take a role of involvement in planning and execution.
It is not intended to have 'long hops', but to enjoy the boat, surroundings, company, food and wine.
Prices are inclusive of berths and fuel, but catering will be done via a 'kitty', which was found to be successful in 2017 by providing flexibility. Dates   April 4 – 11th. Costings. £595 for a shared berth in an aft cabin, £675 for a v-berth in the forecabin and £695 for one person in the double saloon berth Only the double saloon berth now available
Practicals
Mighty March Wind Power
A cracking start to the 2017 sailing season, high winds and a lot of excitement. Firstly the Shakedown sail, with Paul, John, Mario and Oran (left to right) which was originally the last sail of the 2016 season, but postponed due to adverse weather.
They waited and, probably wondered, what a shakedown would involve – it's to get everything working properly, and finishing off the new stack pack was the main item. 30knots+ whilst we were still in the berth for starters, and we were aiming for Hartlepool for the night. My Yachtmaster exam was postponed when the wind hit over 30 knots in the berth. Then a windy motor into Little Haven, off South Shields beach but within the pier ends. Up and up went the wind speed to a steady 40+ knots. 45+ put the wind up me (sorry!) and then 50 & when a gust hit 55 I shouted 'take a photo' (of the wind gauge) but too late of course, but back to Royal Quays for 'adjustment'.
We did get off and speeding down to Hartlepool in a westerly, 40-45 knots steady, and 9 knots SOG with the favourable tide. But…..we had lost time and we doubled back to an inviting Sunderland. Force 9 off Sunderland
Practical Crewing My version of RYA Competent Crew. Three days, 0930-1700hrs onboard for three persons. 3:1 private tuition and you will be up to the Comp Crew standard. No experience necessary. Cost £275. (£375 weekends)  July 10, 11 & 12th
Own Boat Tuition
One/Two to One RYA Course or individual sessions can be arranged on your own boat. from £225/day guide rate. Tuition has been carried out at Royal Quays, Kielder and Nice, in the Med. 'Thanks for today it was exactly what I needed' – John
International Certificate of Competence (ICC)
Although not a 'sailing passport' this certificate is often required by European countries when own boat sailing or chartering  – a customer reports 'sailing with a large company several years ago in Croatia we were checked and all boats where the skipper had no ICC were impounded. The Company had to fly out an RYA Instructor to assess them before they were allowed to continue .'
For European Inland Waterways familiarity with their Code Européen des Voies de Navigation Intérieure (CEVNI) is necessary, requiring a short written test to gain endorsement for the IGG,
The ICC coastal certificate can be obtained in one of three ways;
1    Attain Day Skipper Practical
2    Have an ICC Assessment, where you will have limited tuition and are assessed on your practical and theory skills. Likely to take place over two or three days, with tuition, this could be the preference of an experienced boat owner. It could even be in the Med!
3    Do the ICC Course at the same time as a 5 day Day Skipper Practical. See dates above.
Individual quotations given, but examples of cost are; Own Boat One day assessment without tuition £225. My Boat Three days cost £595 (safety talk & tuition needed).
The ICC form on the RYA site gives full information. ICC Form
                        

ICC in Action
Half term was time to go off into the sun, Porto Pollensa in Majorca to be exact. A family trip where wife and son are more interested in speed and hence this view of me approaching Formentor at speed (by my standards)
The Hirer asked for a 'licence' (actually he spelt 'license') and I produced my ICC (International Certificate of Competence) remembering that this covers me for power up to 10 metres as well as sail. Bit hard on the pocket but, I have to admit, enjoyable. (the following day was windless and no dinghy sailing possible)
Learn to Sail
Or just brush up your skills before that sail in the Greek Isles. Tuition is on a one to one basis (or one to two), onboard the 11 metre sailing yacht based at Royal Quays marina, North Shields. Dates by mutual agreement. Cost  from £225 for the day with per head discounts for extra persons. One2one will usually require another crew for safety and ability to extend the range of exercises. With notice something can often be arranged.
I can match you up with others in a similar situation, dramatically reducing the cost. Tuition can lead to RYA Competent Crew standard, without the certificate and need to attend a five day, live aboard, course.
Trips and Treats
A present for a birthday or special occasion? Just let me know and I will try and help.
Day Trips (or Get Your Sea Legs)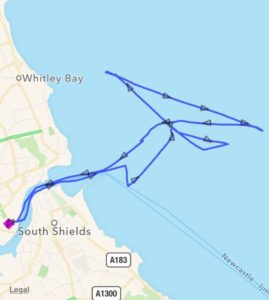 No experience is necessary for these trips. The aim is to have an enjoyable sail, good companionship and learn some skills. Out of Royal Quays 0930 – 1700 with non alcoholic drinks provided. Cost £50 per person weekday, weekend £70. Next Trip; April 3rd. 'Yes, describing it as a "taster" is an understatement. It was a practical and thoroughly excellent training day. It's a credit to your skill and confidence to take two complete novices to sailing at sea out into force 7+ and make it feel so easy. Your training plan and instruction was just right and delivered with clarity and a sense of humour which quickly removed any tension. I know Peter had as much fun as I did and we both came away with a heightened enthusiasm. – David  
How do I book?
First confirm availability with me and then pay the reservation fee, online direct to my bank, or cheque made payable to 'Melvyn Wallhead'  sent to 1 Anscomb Gardens, High Heaton, Newcastle upon Tyne NE7 7BB. Cash not refused either! Only when payment has been received can the booking be confirmed. Please give me your age, any sailing experience, and advise me of anything relevant such as limited mobility, diet or health.
Cancellation?
If I have to cancel there would be a full refund.
March 2017 was a Day Trip advertised as a 'taster', with four onboard; Phil, Paul x 2 & Neil. All were new to 'Lian', two are taking their Day Skipper Practical with me and having a bit of practise.
Off we went leaving the berth courtesy of an incident, due to the breezy southerly wind unusual for this time of the year. Down river we went and up went the wind speed. Just before the pier ends a gust hit us and the double reefed mainsail slewed dramatically into the wind and we were up into the 40+ knots yet again, with 52.6 maximum gust. This time we had to go back to RQ for good and the image shows us hunkering down on the return.
When I mentioned the first sail to skipper Malcolm he pointed out that he always felt secure on 'Lian'. She is a 'stiff' boat, a takes a lot to heel over, compared with a lightweight vessel.
I don't think anyone was disappointed as they could experience a high wind in safety. No-one felt seasick. I do remember paying to go on a 70 foot yacht from Plymouth to Fastnet billed as 'Heavy Weather Sailing' and there was no wind. The only thing I got out of it was being able to cook down below whilst under way.
Night Sailing 
On a 5 day Course, incorporating the mandatory 4 hours night sailing, there can sometimes be space for extra crew for this sail only. Very useful if you have no experience of night sailing or want some extra hours in your log book. When I have sailed in other areas more 'user friendly' I have found few challenging light combinations, the Solent excepted. Up in the North East there's a lot and you may be asked to find the 'hidden vessel', which is hard to identify amongst the plethora of background lighting. For £80 you can join us for a marina and boatyard tour to identify light combinations and then off to sea to put this into practice.