Practical Courses and Short Trips involve a mixture of learning and fun, to enjoy the summer and the scenery. They start from Royal Quays marina in North Shields, which has 24 hour access to the river Tyne, close to its mouth into the sea.
A synopsis of RYA Sail Cruising Courses can be found with this link Sail Cruising
I have a quality 11 metre Hallberg Rassy yacht, "Lian", and will be pleased to have you onboard as crew (or aspiring skippers!) The yacht has elegance and comfort, together with the popular and familiar wheel steering. Try Hallberg Rassy and search for HR36
Which RYA Course will suit me?
Enrolling on the correct Course for you is important and we try to check this out first. A general RYA to their Cruising qualifications can be found here: RYA Sail Cruising
RYA Start Yachting
A two day Course for complete beginners where you will learn about a yacht, rope work, sailing, rules of the road, man overboard recovery, clothing/equipment, emergency equipment and precautions and meteorology. A two day course for beginners, which can be the 'start' of greater things. You live onboard for two days and visit another marina, away from Royal Quays. This is usually a Course for which a group booking is needed. Individuals or couples are advised to try a Day Trip. Cost £230.  RYA Start Yachting
RYA Competent Crew
A five day Course living onboard the yacht where you will become experienced in seamanship and a useful Crew member. Many and varied skills will be learnt, such as sail handling, safety, rope work, meteorology, dinghy handling and steering a boat.
No prior experience is necessary, just a willingness to learn and have a good time, in company.
The package includes full board (excluding a celebratory dinner out) and instruction from an RYA instructor. May 13 – 18th, 31st July – 5th August & others to emerge See a short video –  Mark Batey Competent Crew
The full five days costs £595, to include RYA Course notes. Alternatively, try sharing private tuition which will be during the daytime only over three days, 'An excellent Practical Crewing course in a lovely boat' – John. 'have had a great 3 days and loved every minute' – Roxy. This leads to Competent Crew equivalent, without the RYA certificate. RYA Competent Crew  Cost £275 (£375 weekends).
  Course Review by Jamie Farquharson
                                                RYA Day Skipper Practical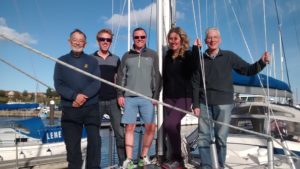 A five day course, often with Competent Crews, living onboard the yacht, well known for its luxury and steadiness afloat. Although this is a beginners skippering Course, candidates should have practical to Competent Crew standard and Day Skipper Theory level knowledge.
You will be introduced to the problems and responsibilities of being in charge of a sailing yacht and how to cope with common difficulties. RYA Day Skipper Practical
This very important Course is the key to being able to charter a sailing yacht.
You will learn to be able to skipper a cruising yacht safely by day in tidal waters. Subjects to be covered include boat handling, pilotage, meteorology, collision avoidance, navigation and wind awareness. Turn yourself from crew to skipper in 5 days.    
The Course will start on the evening of the first day and finish in the afternoon of the last, weather permitting, at Royal Quays, assuming no problems. You will visit other marinas in the area.  – 'I was pleased with the way the course was organised, the instructions for preparation and attending, the fact that you were there waiting for me when I arrived, and your welcome both before and after we boarded.' – Hassall
What to Expect. You will be living onboard for the duration of the Course and will have an opportunity to learn many skills without an examination, as the certificate is awarded based on continuous assessment. Days can be long, often 9am to 9pm and some night sailing (No 9am to 5pm here!). All ages, 18 and above, are welcome. The School yacht has the popular, and familiar, wheel steering to assist manoeuvres. Course Review by Tim Edwards
How to Prepare. Although you need sea mileage this will be gained during your stay. A suggested minimum practical experience is Competent Crew level. Some theory will be put into practice and knowledge up to RYA Day Skipper Theory standard is recommended.
You will need suitable clothing and be prepared to have some fun on the way (or even afterwards during shoreside debriefs, before 2300)
How to Book. There are a maximum of five places onboard and the cost is £625 per person or £995 for a couple prepared to share the forecabin, which has privacy but restricted space. Cost includes RYA Course notes.
You will be asked to confirm your fitness for the Course, with £150 reservation and the balance eight weeks before the start.
You need to be physically able to cope to experience the Course to the full. Whilst it may be possible to allow for some mobility limitation, there is a safety aspect to this and the skipper will have the final decision as to whether you can continue. April 2018 22 – 27th (FULL), May 13 – 18th, 31st July – 5th August & others to emerge.  
With your booking, please state your age, any sailing experience, and advise me of anything relevant such as limited mobility, diet or health. For a murky glimpse of a night sail try Night Sail   
Private Course
This is possible and you can see what happened to Chris & Heather in 2016 Where's Your Ticket?
A Sailor's Tale
'Maybe you're like me  – a middle aged guy (or gal) who used to sail but then let it lapse "for a year or two", due to work/redundancy/babies/children/elderly parents/other (*-delete as appropriate!) – always with the intention of returning soon!  In my case, I've had all of these reasons/excuses and was horrified to find from my old sailing logbook that "a couple of years" was actually a couple of decades and that I was last on a yacht in the last century (1996).  Whilst still vaguely familiar, my RYA Day Skipper evening class theory and practical handbook made me realise that I had now forgotten most of the essential details! 
My last sailing holiday was bareboating as crew with old friends in the Med. with my (then) very new girlfriend, Paula.  She wasn't a sailor at all, but was persuaded to come on condition that she only had to learn how to put the fenders away in the morning, sunbathe on deck all day and place the fenders back out (with perfect clove hitches) at dusk.  Easy peasy!  Unfortunately it was Turkey in late September and, not only was the sun in short supply, the sea was to say the least – very choppy!  It was a bit scary at times (even for me) and Paula made me promise that, if we ended up staying together,  I would never make her go on another sailing holiday!
Fast forward 20 years. We've been married for 18 of them and now have two sporty, teenage but land-locked daughters (coming up to 18 and 16).  Somebody suggested a flotilla holiday with a couple of other families. "Dad – you used to sail didn't you?".  "Err. kind of".  Before I could say anything, the holiday had been booked and I was expected to take charge!   I clearly needed to gain some modern competency and I quickly trawled the net.  I now live many miles from the coast and most sailing schools seemed to be somewhere off the Solent or in North Wales.  However, I stumbled across Northumbria Sailing with a view to a refresher of some kind.   Suffice to say, a quick (and typically robust) exchange with Melvyn soon put me in my place.  He, quite rightly, pointed out that I would be a liability on the waters and should not even consider taking my family out to sea.  I would have forgotten most things and those things I could remember had probably either changed or been superseded by technology!  Too true – my old RYA books didn't even mention satellite navigation or GPS!  Melvyn suggested, for starters, a day trip with him on Lian to see about "getting back into it".  It was advertised as a kind of "taster day"!  If I was serious about getting up-to-speed, I would need plenty of self-study to bring me up-to–date on the theory.  He recommended suitable books and and that I sign up for his 5 day RYA Day Skipper Practical Course – with no guarantee of being "signed off" at the end, unless I made the grade.
Now, I like a challenge.  Ideally, I would have re-attended theory classes, but I had no time for that.  So, my rusty dividers were oiled, my 2B pencil sharpened and the dust blown off my old RYA Training Chart (about the only thing that seems not to have changed!).  I scoured the internet for training videos and found several good sources.  For example, "Westview Sailing School" has an iPhone app and shore based tutorials (some free on YouTube, others for a modest charge) that are great for learning/ revisiting course-to-steer, tidal heights, position fixes etc.  Melvyn recommended the book "Pass Your Day Skipper" by David Fairhall and that has become very well-thumbed together with "Reeds Skipper's Handbook".
The day trip (with a lovely couple – Sarah – a lapsed sailor – and boyfriend Steve – (a recently passed Day Skipper) showed that Melvyn was right about the twenty years.  I was rustier than an old fishing trawler!  No! No! Locking turns on a cleat are now frowned upon.  Anchor chain is now called "rode" and you need a different approach with these self-tailing winches.  "Forget how you used to do it!"  But where was slab reefing and why wasn't I constantly being barked at "topping on/ kicking off"?  I was exhausted by the end of the day but had regained the "bit between my teeth".  Train journeys and wet Sunday afternoons saw me revising my theory (tip: learn your lights and know your ColRegs!) as I prepared for the week's practical.
I'll leave it to others to review Melvyn's Day Skipper Practical Course.  Suffice to say, it was hugely memorable, highly recommended and a week that will stay with me forever!  We were a multi-national group. All male (as it turned out).  There was German sales engineer – Ralph, Chinese PhD student – Yuan, Northumbrian vet – Roger and a Yorkshireman (me).  We all quickly became good friends and, needless to say, coming from God's own county, I was the butt of most of Melvyn's dry humour!  Now, if you're looking for something to "get you by" just  to "get your ticket" then this week is NOT for you!  I've read of other sailing schools that seemingly skimp a bit on the RYA syllabus to sign you off.  Rest assured – Melvyn won't do that!  Instead, he offers an intensive, 5 days, 5 nights course where, from first thing in the morning until late into the evening (and sometimes even later!) he will be constantly switching between an extensive range of topics, including subjects that are not in the basic Day Skipper syllabus, but really useful to know!  For example, we had a tour of the local dry dock area looking at yachts with different types of keel and propellers and methods of construction.  Melvyn seemed to have a story and to know the history of each one!  'Lian' herself is a great yacht.  You'll get to know her well, from the tip of her mast (optional climb!) to the bottom of her bilge!  Melvyn takes pride in his yacht but isn't precious about her.  He recognises that she is a training vessel and may get into the odd scrape (she did!).  He is always happy to answer questions including the ones you've never dared ask, for fear of sounding silly!  You'll be encouraged to try your hand at everything – from engine  maintenance to galley food prep, from taking the helm to changing sails and from plotting a night sail to conversing with the Harbourmaster – all under the watchful, firm, but always kindly supervision of Melvyn.  The course may seem expensive at first glance, but you get real value for money with Melvyn wanting to impart as much knowledge as he can, backed up by great homemade food, frequent mugs of tea and the odd pint ashore at the end of the day!
I passed my Day Skipper Practical and now feel confident in my ability to take my family on a relaxing (ish) summer holiday as well as to meet up again with the other guys later in the year.  Of course, there is still much more to learn and I now want to take things further.  It's down to Melvyn's knowledge and infectious enthusiasm for sailing that has made this possible, after that gap of twenty years.'
Tim Edwards
Ilkley, Yorkshire 
RYA Coastal Skipper Practical
An advanced five day course, with or without an examination at the end. Like the Day Skipper Course from Royal Quays you will be living on board and aspire to the Coastal Skipper standard, the ability to skipper a yacht on coastal passages, day and night. You will be instructed on skippering techniques and passage planning. You will be assumed to have sailing to Day Skipper standard and navigation to Coastal/Yachtmaster™ shorebased. A sample requirement for chartering a yacht on the Clyde; 'Skippers must hold/be experienced RYA Coastal practical or Yachtmaster practical when sailing within the Clyde. Outwith the Clyde – Yachtmaster practical'. Cost £625  April 14 – 19th (FULL).  RYA Coastal Skipper Practical
If you are looking for the Yachtmaster™ Coastal or coveted Yachtmaster™ Offshore qualification, as this is by examination, 6 to 10 hours, an RYA Examiner can come and 'put you through your paces'. Yachtmaster
Remember you need, at the time you are to be examined;
For Yachtmaster™ Coastal – minimum of 30 days sea time, 2 days as skipper, 800 miles & 12 night hours. (if you have the above Coastal Skipper Practical Course Completion certificate the sea time is reduced to 20 days, two as skipper, 400 miles & 12 night hours)
For Yachtmaster™ Offshore – minimum of 50 days sea time, 5 days as skipper, 2,500 miles, 5 passages over 60 miles including two overnight and two as skipper.
For both examinations you will need certificates for First Aid and a VHF Radio Operator's. Jonny Colwell reviews his Yachtmaster Examination in detail YM Examination
Yachtmaster™ Preparation. A three day Course onboard the school boat followed by examination for Yachtmaster™ Coastal or Offshore. The Instructor will guide you through this, to include a night sail, out of Royal Quays and, after three days, will be replaced by an RYA Examiner for two further, five days in all. You need to have prior competence to Coastal Skipper standard and the requisite certificates and sea miles in your log book.
Cost £595.YM Prep & Examination 2015
Ocean Yachtmaster™ Qualifying Passage This is not an RYA Course but follows gaining the Ocean theory and involves estimating your position by use of a sextant. The passage is followed by an oral examination for the candidate to gain the coveted 'Ocean Yachtmaster™ title. Here is the story of Mick;
Congratulations Ocean Yachtmaster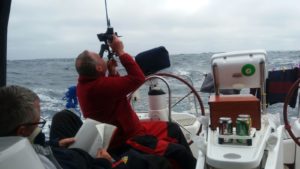 Well done Mick Brown on having just attained his Ocean Yachtmaster ticket. In case anyone thinks I do Ocean qualifying trips, Mick did his YM Ocean theory with me and boat handling with Don. Mick coped well with the Celestial Navigation part of the syllabus. Of all the RYA theory subjects, this is the most demanding. No he's not shooting albatrosses in this image!
'Delighted to report that my Azores trip went like clockwork 1200 miles in 8 days I got a morning sun sight meridian sight an afternoon sun sight and was able to plot them all with 2 runs between. Very happy with the fix. Planned star shots but cloud came over.
Oral exam went very well and I passed! thanks for your excellent tuition'. 27th October Mick updates 'I got my Certificate today  – very pleased , a long but satisfying route from tying my first fender!' You can see his passage plan on Ocean Qualifying Passage  I don't do an Ocean Qualifying Passage but victim Chris of Carbery Sailing  operates between Cork and Tenerife and is worth a look