Northumbria Sailing
      The Leading Provider of Sail Cruising Courses in North East England
February Newsletter
'A voyage is like a classical drama: it starts slowly and works up with many adventurous incidents to the finish' – Sir Francis Chichester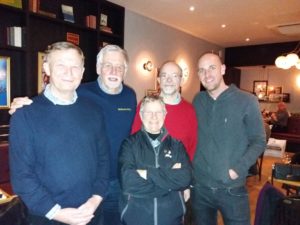 Sailor's Dinner
The year got off to an excellent start with our annual dinner, this time held at the Café Rouge. A record 23 attended and we ate, drank and retold familiar sea tales. Seen here are 5 Yachtmasters (L to R) Peter, Melvyn, Liz, Rob & Jonathan.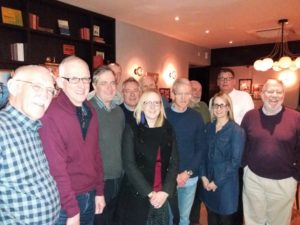 Here are Day Skippers Tom, Brendan, Mark, Mario hiding, Phil, John also hiding, Kaye, Glen, Cecil, Emma, Alan & Mike.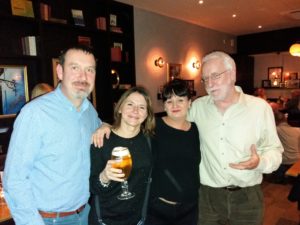 Not to mention the unqualified victims; Michael, Joanne, Vici & John
RYA Conference
Last month I attended the annual conference, together with instructors Don and Steve. Those of you who attend these events will know there are sessions for everyone and spin off workshops. Near Swindon, getting there was the first achievement, the second being the shock of prices in the bar and restaurant!
My most informative workshop was on Tides, but the Radar and the Rough Weather Handling, as seen here, were worthwhile too. Less so was the Ocean Theory where, yet again, we were promised a course revision soon. We have been hearing this for over 5 years. Various exhibitors took stands, which were interesting and the RYA did a video of the weekend and you can get a glimpse of me talking to Don. RYA Conference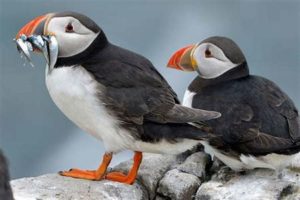 Farnes in Nesting Season
A four day trip to share the delights of north Northumberland, almost on our doorstep.
We aim to set off from Royal Quays on the morning of 20th June onboard Lian and return later on during Saturday 23rd. Exploration, anchoring and berthing in interesting, and often tricky, places will be the priority as opposed to mileage. There will be an opportunity for a swim! whilst I stay onboard on boat watch…….
Nesting season is June and you can expect to see hundreds if not thousands of birds. Novices and experienced are welcome, and any novices will be provided with a safety talk before 20th in order that we can get an early start, if appropriate. Cost £250 or two in the forecabin for £400.  20 – 23rd One place left, 13 – 16th FULL.
Where Next, Day Skippers?
I am often asked by newly qualified Day Skippers – where can I get sailing experience? Perhaps you might wish to try something different and broaden your experience. Adventures Offshore is one such organisation and Liz is very much part of it: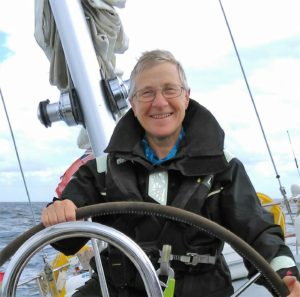 Liz King is an aspiring Ocean Yachtmaster and took my Theory course last autumn. I had to deal with a sailor with far more ocean passage experience than I, someone who has crossed the Pacific as well as many of the rest. Needless to say, she was successful and a pleasure to have onboard.
'Ahoy there! I did most of my early sailing on the Solent at the Joint Services Sailing Centre (nowadays they have stuck the words "Adventurous" and "Sail Training" in there, just in case Joe Public got the wrong idea about sailing being all gin and tonics). In the good old days JSASTC had a battle hardened fleet of Halcyon 27s and Contessa 32s which, once you acquired your Day Skipper ticket, you could "sign out" and go and play and learn on. A fabulous introduction to the world of sailing. We also had a fleet of graceful Nicholson 55s, greyhounds of the sailing scene in their day; many of them are still active, as indeed are many of the Halcyons and Contessas.
Moving on a few years and about 40,000NM later, many people in the north east know me from some of my photography and PR work for the RYA NE Region, a role I have recently relinquished, so I now have time to enjoy sailing again.
I am currently skippering an Oyster 50, part time for the charity "Adventures Offshore" which is part of the Scout network and in 2017 we took part in the Baltic Tall Ships Race, my first venture into the Baltic. I skippered the delivery leg, 800NM from the Thames estuary to Sweden against relentless 25knot NE winds! Groan!
This year we are again taking part in the Tall Ships and the Oyster 50 "Ocean Scout" will be at Sunderland for the celebrations. My leg as skipper is from Denmark to Norway, I have put in my order to a higher command for some gentle South Westerlies. We'll see if it works. (studying in the Church Life Centre might help – Ed)
I'm currently working towards my Ocean YM ticket and in preparation for that I have recently completed a couple of shorebased revision courses with Melvyn and I can honestly say that his teaching has been excellent. It's 25 years since I last looked at astronavigation and Melvyn patiently brought it all back into focus. Great fun! At the moment, I'm sharpening my pencils and polishing the sextant, ready for a summer of sights. How does it go again? "All I need is a tall ship and a star to steer her by…" Well, I can do that now, I'm ready!
Northumbria Sailing  Adventures
For these adventures we either charter a sailing yacht or take 'Lian' somewhere interesting and challenging. When weather and crew status permit we will do distances, often sailing through the night via the watch system. If this is not possible we will cruise looking for pleasant places to visit with good shoreside wining and dining facilities.
Trips in recent years have included the Orkneys, the Clyde, London Tower Bridge and a North Sea crossing.
We will endeavour to have you fully involved in the sailing of the boat and to consider your preferences. Alcohol will often be enjoyed when we are no longer underway. At the end of the trip you will have a log book filled and plenty of nautical adventures to tell.
2017 has seen a trip around Skye and one to Amsterdam.
Go Dutch in 2018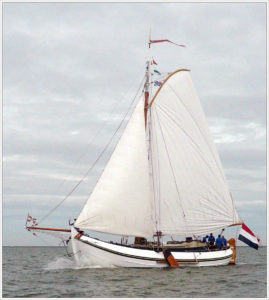 A fantastic opportunity to sail a 15 metre traditional Dutch flat bottomed boat. Saeftinghe started life in 1930 as a mussel fisher, commandeered by the German army during the War and was converted for cruising in 1997.
Saeftinghe sails out of Makkum in North Holland and we will explore the Friesian Islands and canals. It is not expected to be a strenuous week, nor with high mileage, but the opportunity to sail a very different boat with a lot of space and luxury. Sleeping quarters are all in 5 cabins and bedding is included, as well as cleaning.
On the first morning we will have four hours of tuition on sailing and canal procedure on this beautiful, traditional, boat. Then we shall be free to explore the inland seas and canals. 'I already did this once together with my wife.  On a bigger boat and a larger group.  It was brilliant…' Dutchman Peter
Saturday 30th June to Friday 6th July 2018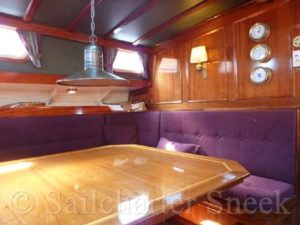 The sleeping quarters, for 10, are shown in red and consist of one double cabin plus four, each with bunks directly overhead or projecting. Each berth is £725. Already half of the 10 spaces are spoken for
Have a Drink in Ireland
Northern Ireland is only 22 miles from Scotland at the narrowest Irish Sea Crossing, and I thought it was time this sailing area was explored, as well as the 'black stuff'.

Immediately after the Easter Bank Holiday we plan to do just that, and have chartered a 2013 built yacht, Scimitar, a Jeanneau 379, sailing out of Largs, a marina with easy access and excellent facilities. The pricing structure is aimed to give a variety of berths costing from £595.
The adventure is likely to appeal to many ability ranges, qualified and unqualified. Sailing holidays, especially in an area of outstanding beauty, give a healthy source of maritime experiences and tales. Instruction will be provided as well as the opportunity to take a role of involvement in planning and execution.
It is not intended to have 'long hops', but to enjoy the boat, surroundings, company, food and wine.
Prices are inclusive of berths and fuel, but catering will be done via a 'kitty', which was found to be successful in 2017 by providing flexibility. Dates   April 4 – 11th. Costings. £595 for a shared berth in an aft cabin, £675 for a v-berth in the forecabin and £695 for one person in the double saloon berth Only the double saloon berth now available
'Lian' out of the water
End of season boat maintenance time and victims Mark and Chris, working at Royal Quays, do the lift and pressure wash.
The winter will see 'Lian' in the boatyard for scrape and polish, together with all those unexpected jobs which are inevitably found.
Early February and most of the external cleaning and polishing has been completed together with the anti-fouling. The practical season starts on 5th March, so this is my target.
Update on Courses & Trips
'Keeping your brain active protects against dementia, probably because it increases the quality of your cognitive reserve – the connections within the brain network'
THEORY COURSES
RYA OCEAN YACHTMASTER Explore the wonders of a sextant with Celestial Navigation and Ocean Passage Planning. This 'top of the range' RYA theory course can lead to the coveted 'Ocean Yachtmaster' ticket. I have four sextants, one new lightweight metal, one plastic & two old brass, for you to handle. A practical session is included. Cost £475 or £725 on tailored tuition. It's possible to come for the Celestial Navigation only. The US Navy are teaching sailors celestial navigation again as a precaution against cyber attack. US Navy.
RYA COASTAL YACHTMASTER The advanced Course, a must for those proceeding to Yachtmaster level. Cost £425 for class & £625 tailored tuition. You need a good knowledge of this Course before being tested by the RYA Examiner.
RYA DAY SKIPPER  A popular starting point for many. Same Course for Sail or Power. Already half full, this is a Course where early booking is essential. Classes take place in a modern building in Heaton, Newcastle upon Tyne. Included is a half day visit to the School boat. Cost £425. Class sessions to resume in the autumn.
I can't do these times and am in a hurry!
Then a Tailored Timetable with one to one tuition could be for you. Costs £625 (£950 a couple) for Day Skipper, £625 for Coastal/Yachtmaster™ and £725 for the Ocean. Available when the diary permits.
Whilst I would not wish to encourage missing sessions, it's a fact of life in todays world and time can be made up through private sessions or, sometimes, within the class timetable
TIDES In response to demand I'm offering this Course on tides, not RYA Tides, but real UK tides, especially on our North East Coast. Learn how to calculate tidal heights and streams. Join any of the four at £25 each or £90 for all four. Each session takes place 6 – 9pm at Heaton; Session 1 will be Day Skipper level with tides at standard ports. Session 2 will be advanced with secondary ports, Session 3 Tidal streams. Session 4 will go through examples and homework set from previous sessions. Also to be explored are the less common e.g tidal coefficients
PRACTICAL COURSES
All local courses take place on the school boat, a quality 36 foot Hallberg Rassy, well known for its comfort and steadiness afloat. Properly equipped with modern electronics, the preferred wheel steering and comfortable, recently replaced, bunk cushions you will be well set up to handle whatever may come your way. Courses are fully inclusive, except for a kitty contribution towards drinks onshore.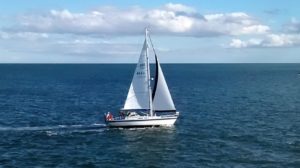 PRACTICAL CREWING My version of RYA Competent Crew. Three days, 0930-1700hrs onboard for three persons. 3:1 private tuition and you will be up to the Comp Crew standard. No experience necessary. Cost £275. (£375 weekends) July 10, 11 & 12th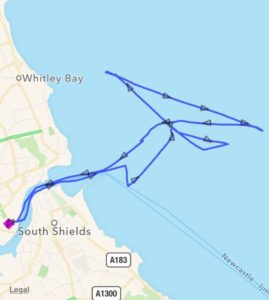 DAY TRIPS. 'Taster' days run throughout the season with the aim of having a pleasant day out on the water. You can see whether yachting is for you at modest cost. Trips operate out of Royal Quays 0930 – 1700hrs. Cost £50 weekday & £70 weekend. Next Trip; 3rd April. Yes, describing it as a "taster" is an understatement. It was a practical and thoroughly excellent training day. It's a credit to your skill and confidence to take two complete novices to sailing at sea out into force 7+ and make it feel so easy. Your training plan and instruction was just right and delivered with clarity and a sense of humour which quickly removed any tension. I know Peter had as much fun as I did and we both came away with a heightened enthusiasm. – David  
RYA COMPETENT CREW  A 5 day, live aboard, course where you will learn 'the ropes' and to become a useful crew member. A good start to, perhaps, a lifetime boating. Cost £595. May 13 – 18th, 31st July – 5th August & others to emerge  Course Review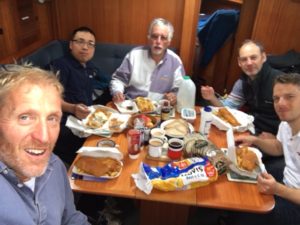 RYA DAY SKIPPER PRACTICAL  The key to bareboat charter, this course aims to get you to the ability ' to skipper a small cruising yacht safely by day in tidal waters with which the student is familiar'. Then you can be let loose to find your own adventures and provide endless anecdotes for you to enjoy telling. (The caption shows the June victims enjoying fish & chips on the final day) Cost £625  May 13 – 18th, 31st July – 5th August & others to emerge 'I was pleased with the way the course was organised, the instructions for preparation and attending, the fact that you were there waiting for me when I arrived, and your welcome both before and after we boarded.' – Hassall. Course Review by Tim Edwards For a murky glimpse of a night sail try Night Sail 
RYA COASTAL SKIPPER PRACTICAL  The 'top of the range' RYA practical course providing greater challenges to get you up to the standard to skipper a cruising yacht safely by day and night. A sample requirement for chartering a yacht on the Clyde; 'Skippers must hold/be experienced RYA Coastal practical or Yachtmaster practical when sailing within the Clyde. Outwith the Clyde – Yachtmaster practical'. Cost £625  April 14 – 19th (FULL). Jonny Colwell gives a detailed review of his YM Examination
RYA START YACHTING  A two day course for beginner groups, which can be the 'start' of greater things. You live onboard for two days and visit another marina, away from Royal Quays. Cost £230.
INTERNATIONAL CERTIFICATE OF COMPETENCE (ICC)  This can be done on the same course as Day Skipper/Competent Crew. Cost £625 with dates as above. Alternatively I can test you on your own boat at much cheaper cost. Individual quotations are given for this which will be from £225 for one day, own boat
Northumbria Sailing  on Video
The school yacht is an 11 metre Hallberg Rassy, a quality boat well fitted down below providing comfortable accommodation, stable at sea. Have a look at her entering the river Tyne under sail.  Lian at Tynemouth
Have a look at my Theory Training Centre with this video. Training
Onboard the Hallberg Rassy training yacht, by courtesy of Mark Batey and the kind co-operation of victims Andrew and Clive. See me giving berthing advice in trying to avoid the electric supply post Mark Batey Day Training 
RYA Competent Crew in the sun, by courtesy of Mark again Mark Batey Competent Crew
In a clip from 2013 you see the appreciation of Ladies on an RYA sponsored day at Royal Quays Ladies Day
 

Pieces of Eight – Knotty Problems Analysed
Short Handed Berthing
The key to successful berthing is the proper use of the midships cleat. If you haven't one it's often possible to rig a similar arrangement via a winch. I remember doing this with my first yacht, a 21 foot Corribee named Destiny. Little did I know then that my own destiny was to be a sailing instructor and to run a sailing school!
First rig a strong, shortish, warp to the cleat with an open end or loop, depending on whether you have crew able to step off onto the pontoon.
Then motor up enabling the crew to secure the warp to the pontoon cleat (encircled in red). Put into gear and steer away from the pontoon and leave in gear. The stern will come into the berth, you can leave the helm and put in place the stern warp and finally the bow. Practise!
Specialist Courses

    

 
RYA VHF This important Course is available in class, online or private tuition. Don't be caught without a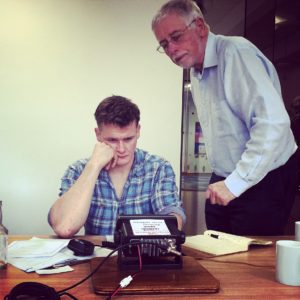 proper licence as you could be fined up to £5,000, plus 6 months inside, plus equipment confiscation – yes it's very severe! At Northumbria Sailing  you will receive tuition one per training set. As you will be assessed for practical skills as well as theoretical I think it's advisable that you have every opportunity to familiarise yourself with the equipment. Next sessions;  Daytime; 20th March, Evenings; February 19+26th  Cost £110 plus £60 to RYA.  Also available One to One at £175 and online at £85 to include manual. Assessment £60 extra.  Try these links. RYA Online VHF Radio  and RYA Online VHF video
RYA RADAR Are you safe using your set? Can you properly identify a collision situation? If you have radar you are required to know how to use it properly and could be held responsible if an incident was to occur.  Day or two evening courses. Cost £120, plus £9.75 to RYA. All Day; 16th March
CEVNI test for the Inland waterways endorsement to your ICC. Done online, cost £25
RYA Essential Navigation Online. Do this starter course on your own laptop. A good introduction to the theory part of sailing, with yacht or power boat. Cost £95 plus £28.50 (includes instruments) to the RYA Online Navigation
RYA FIRST AID. All day for the RYA certificate, valid three years. Be prepared for a full day's activity with lots of practical demonstrations and active participation – no going to sleep here with Simon!. Cost £75, £95 with Cat C drug endorsement, + £7 RYA Pack. Next session; 7th February
Accident Alley
A section to draw attention to accidents and what we can learn from them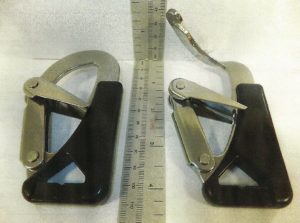 Clipped on yachtsman went overboard and died
During the Clipper Round the World in November 2017 a crew was clipped onto the jackstay and yet this failed to hold him. As a consequence he fell overboard and could not be recovered in time.
A safety issue identified during the investigation was that the hook on the end of the crew's tether had become caught under a deck cleat, resulting in a lateral loading that was sufficient to cause the hook to distort and eventually release. Failed Harness .
Victims (all) at Sea
Malcolm Young now has his 62 foot Oyster berthed in Royal Quays, close to my own boat and opposite Ron Fraser of Gianna, hitherto about the smartest boat in the marina. Ron is so pleased…..Malcolm has a great and luxurious yacht which he sailed up from Lymington on the south coast last month. Not the best time of the year to do a UK delivery trip but the boat did 11+ knots under sail and it was only a three day trip. Malcolm is a notable victim having come 'through the ranks' from Day Skipper to Ocean Yachtmaster theory and Yachtmaster practical with a commercial ticket. He has done excellent day trips and adventure sailing weeks for me with good feedback from victims. Although I can say 'follow Malcolm', doing all these Northumbria Sailing courses does not guarantee an Oyster at the end!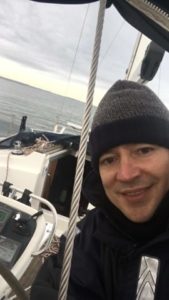 Emre Yilmaz, now with his recently acquired RYA Day Skipper Practical ticket, has his own 36 foot Bavaria and is shown here just before Christmas on his single handed sail from Royal Quays to Amble and back. Being Turkish is apparently no handicap when it comes to sailing in our cold, North East England, waters. I did give him an unofficial lesson beforehand, which he appreciated 'Thanks again for showing me the tips the other day.' Well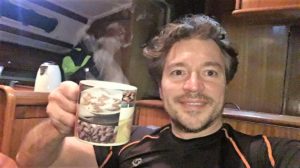 done Emre (but rather you than me in December)
Emre sailed back to Amble last month. Single handed again he arrived in the dark and, quite rightly, could enjoy his hot wine. Great Stuff, Emre!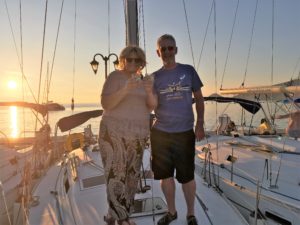 Nigel Bowers is a lively Yorkshireman and has successfully trained with me, obtaining his Day Skipper Practical Ticket.
He's seen here on a Greek flotilla holiday;
'We had a fantastic week sailing in Greece on a flotilla holiday last October – and have just booked a 2 week flotilla holiday in Greece again this October. All thanks to passing the Day Skipper – so thanks!'
Nigel wishes to have his daughter trained as well, I expect her to be quieter than her Dad!.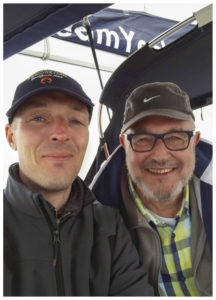 Paul Kröner 'SInce I did the SRC course with you in January 2016 we sailed14 days in Croatia (Trogir, Solta, Brac, Hvar, Korcula, Vis), crossed the Northsea (IJmuiden-Lowestoft/Harwich), sailed 14 days in the Waddenzee/Noordzee (Texel, Vlieland, Ameland Borkum and the tall mast route in Friesland from Lauwersoog to Lemmer) We both were succesful in passing our exam for Coastal Navigation and obtained our ICC.
All together we've done about 1500 NM so far.'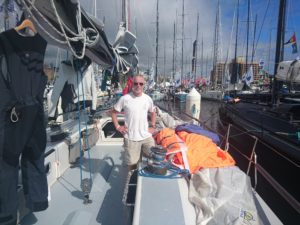 John Williams reports 'I've just returned from the RORC Transatlantic Race a couple of days ago.  3874 nm Lanzarote to Grenada followed by a sail up to Antigua.
Not the fastest run, almost 3 weeks which is really slow for a fully crewed Volvo 60 but we had periods of calm hundreds of miles wide and the NE trades didn't really fill in until week 3.
This on top of a delivery from Cowes to Lanzarote, Biscay in November can be brutal but it wasn't that bad although I did wear my drysuit for the first 3 days!
Think I might have a rest now for a while although 2018 is the year for the Round Ireland and the Round Britain and Ireland Races if anyone is interested' PS Just bumped into John in John Lewis shop and had time for a chat. He, and I, like the 'Round Britain' idea – the Organiser's instructions are very simple; 'Leave everything to starboard, except Rockall'.
Crewing Opportunity
If you're interested in cruising in Irish waters this year, victim Rob Langley who did his Ocean Theory with me is looking for crew. Pendragon of Tyne is a centre-cockpit, 37' sailing yacht built 2004 by Najad, lead keel 3.2 tonnes, displacing 8.3 tonnes. Sails and standing rigging recently renewed. Voyage 1 is a cruise of 220m from Rhu (near Glasgow) to Belfast and back. Saturday 19th May to Saturday 26th May. Free lift available from Newcastle to and from Rhu. Voyage 2 is a cruise of 330 nm from Rhu to Cork, via Dublin, Saturday 9th to Saturday 16th June. Possibly one overnight passage, otherwise day-sails. Possible free lift from Newcastle to Rhu. Fly home from Cork on the last day. Voyage 3 is a serious offshore passage from Cork City Marina to Donegal, about 300 nm, then by day-sails to Londonderry/Derry. Total voyage 420 miles, Saturday 16th to Sunday 24th June. Fly into cork first day, fly home from Belfast on last day.All food on board provided, harbour fees and fuel paid by ship. Crew's costs are transport to and from the cruising ground, and meals/drinks ashore. Contact Rob at;   rll.law373@gmail.com
Boat Delivery
Just bought a boat and wondering whether to have it delivered or trucked? You can contact us for a feasibility assessment and quotation for cost.
Yacht Skippering
There are times when you might feel that your 'ticket' and/or experience will not be adequate for a safe holiday. Last summer I had such a commission enabling a larger yacht to be chartered and to sail to more adventurous places. It worked and we all had a great time and look forward to repeating the experience exploring a more challenging area in 2017.
New Development by Royal Quays
Cussins is building right next to Royal Quays, overlooking the River Tyne and the disused lock. Prices start from £174,950 for a 2 bedroomed apartment to £319,950 for a 4 bed Townhouse. Call them on 01665 600800 or email; sales@cussins.com
Reader's Links
A new section featuring links of a maritime interest sent to me.
Peter Chater sent this one about a fisherman suing as a result of a collision Fisherman Sues
Nigel Hierons saw this news item about a flare  Flare in recycling explodes
Franek Richardson sent this  Time Lapse
Phil Butler mentions the two women rescued after 5 months at sea in the Pacific.
Stuart Porter took and posted this great dolphin display, quite the best I have seen North Sea Dolphins 
Try me on Facebook for lots more images Facebook
For more information contact me via my web page
Sail Safely the RYA Way