Northumbria Sailing
      The Leading Provider of Sail Cruising Courses in North East England
December Newsletter
'What is more pleasant than a friendly little yacht, a long stretch of smooth water, a gentle breeze, the stars?' – William Atkin
 

Christmas is Coming!
My Gift Vouchers are popular at this time of the year and are actually sent free of charge, the amount only payable upon the gift being accepted and a date booked in. Thank you so much for this- talk about the perfect present!' – identity withheld (pending husband receiving his present) 
The New Year and RYA Theory Courses are booking well – Yachtmaster as well as Day Skipper. All held in nice, modern and warm, surroundings at Heaton, Newcastle upon Tyne.
VHF is an ever popular Course, run about monthly, so anyone, from kayakers to luxury yachts, can legally communicate on the air waves.
Breaking News – Big Oyster on the Move
Malcolm Young is on his way up from the South Coast in his large Oyster yacht – in December!
Northumbria Sailing  Adventures
These adventures are when we either charter a sailing yacht or take 'Lian' somewhere interesting and challenging. When weather and crew status permit we will do distances, often sailing through the night via the watch system. If this is not possible we will cruise looking for pleasant places to visit with good shoreside wining and dining facilities.
Trips in recent years have included the Orkneys, the Clyde, London Tower Bridge and a North Sea crossing.
We will endeavour to have you fully involved in the sailing of the boat and to consider your preferences. Alcohol will often be enjoyed when we are no longer underway. At the end of the trip you will have a log book filled and plenty of nautical adventures to tell.
2017 has seen a trip around Skye and one to Amsterdam.
Go Dutch in 2018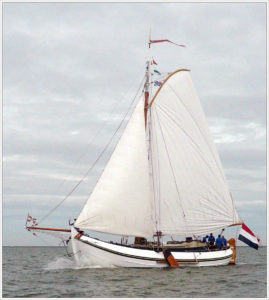 A fantastic opportunity to sail a 15 metre traditional Dutch flat bottomed boat. Saeftinghe started life in 1930 as a mussel fisher, commandeered by the German army during the War and was converted for cruising in 1997.
Saeftinghe sails out of Makkum in North Holland and we will explore the Friesian Islands and canals. It is not expected to be a strenuous week, nor with high mileage, but the opportunity to sail a very different boat with a lot of space and luxury. Sleeping quarters are all in 5 cabins and bedding is included, as well as cleaning.
On the first morning we will have four hours of tuition on sailing and canal procedure on this beautiful, traditional, boat. Then we shall be free to explore the inland seas and canals. 'I already did this once together with my wife.  On a bigger boat and a larger group.  It was brilliant…' Dutchman Peter
Saturday 30th June to Friday 6th July 2018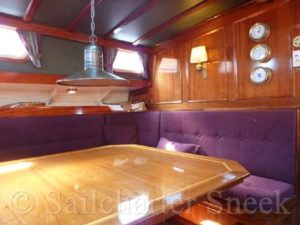 The sleeping quarters, for 10, are shown in red and consist of one double cabin plus four, each with bunks directly overhead or projecting. Each berth is £725. Already half of the 10 spaces are spoken for
Have a Drink in Ireland
Northern Ireland is only 22 miles from Scotland at the narrowest Irish Sea Crossing, and I thought it was time this sailing area was explored, as well as the 'black stuff'.

Immediately after the Easter Bank Holiday we plan to do just that, and have chartered a 2013 built yacht, Scimitar, a Jeanneau 379, sailing out of Largs, a marina with easy access and excellent facilities. The pricing structure is aimed to give a variety of berths costing from £595.
The adventure is likely to appeal to many ability ranges, qualified and unqualified. Sailing holidays, especially in an area of outstanding beauty, give a healthy source of maritime experiences and tales. Instruction will be provided as well as the opportunity to take a role of involvement in planning and execution.
It is not intended to have 'long hops', but to enjoy the boat, surroundings, company, food and wine.
Prices are inclusive of berths and fuel, but catering will be done via a 'kitty', which was found to be successful in 2017 by providing flexibility. Dates   April 4 – 11th. Costings. £595 for a shared berth in an aft cabin, £675 for a v-berth in the forecabin and £695 for one person in the double saloon berth Only the double saloon berth now available
       

Update on Courses & Trips
'Keeping your brain active protects against dementia, probably because it increases the quality of your cognitive reserve – the connections within the brain network'
Why an Evening Class?
THEORY COURSES
In my day there was a choice between an evening class or correspondence and I actually did my Day Skipper Theory twice. First by correspondence and later by evening class as I wasn't convinced that I knew the subject as well as I wanted, even though I had passed.
The Local Authority Evening Class had a cost subsidy so was cheap, but a large class, perhaps 20+, and set in school. The large number prevented the instructor from giving personal attention and proceeded at a set pace and it was up to you to keep abreast, or fall away. Over two terms as well, the class seemed to go on forever and was a real struggle to go out on a November evening into a basic, school, setting.
The Local Authority classes seem to have expired leaving, realistically, class, private or online. The RYA is developing a part online Course as an option and some schools provide their own version.
You can now choose which suits you best and factors you may wish to consider are:
If you live so far away you will probably only have the online option or a residential Fastrack
There are some subjects which, in my opinion, are difficult to learn online. Chartwork principally, but also tides and time zones. I have seen many instances of the correct answer being produced with chartwork, but quite the wrong drawing.
Online multi choice, as one victim put it 'I could see that by clicking an option I would be allowed through, but couldn't understand why'.
Most of my victims haven't done anything like this for many years and need time to assimilate together with explanation, not just given another paper to try.
Learning in company creates friendships and a bit of laughter
I have a warm and comfortable room in a modern building in Heaton, Newcastle upon Tyne with unrestricted street car parking at hand
THEORY COURSES
RYA OCEAN YACHTMASTER Explore the wonders of a sextant with Celestial Navigation and Ocean Passage Planning. This 'top of the range' RYA theory course can lead to the coveted 'Ocean Yachtmaster' ticket. I have four sextants, one new lightweight metal, one plastic & two old brass, for you to handle. A practical session is included. Cost £475 or £725 on tailored tuition. It's possible to come for the Celestial Navigation only. The US Navy are teaching sailors celestial navigation again as a precaution against cyber attack. US Navy.
RYA COASTAL YACHTMASTER The advanced Course, a must for those proceeding to Yachtmaster level. Cost £425 for class & £625 tailored tuition. You need a good knowledge of this Course before being tested by the RYA Examiner. Evenings/Saturdays class;  January 10, 17, 24 & 31st February 7, 21, 24 & 28th March 7, 10, 14, 21 & 28th (LIMITED SPACE AVAILABLE)
RYA DAY SKIPPER  A popular starting point for many. Same Course for Sail or Power. Already half full, this is a Course where early booking is essential. Classes take place in a modern building in Heaton, Newcastle upon Tyne. Included is a half day visit to the School boat. Cost £425. Evenings/Saturdays; January 11, 13, 18, 25th February 1st, 8th & 22nd March 1st, 8, 15, 17th & 29th If there is demand I would consider a daytime Course
I can't do these times and am in a hurry!
Then a Tailored Timetable with one to one tuition could be for you. Costs £625 (£950 a couple) for Day Skipper, £625 for Coastal/Yachtmaster™ and £725 for the Ocean. Available when the diary permits.
Whilst I would not wish to encourage missing sessions, it's a fact of life in todays world and time can be made up through private sessions or, sometimes, within the class timetable
TIDES In response to demand I'm offering this Course on tides, not RYA Tides, but real UK tides, especially on our North East Coast. Learn how to calculate tidal heights and streams. Join any of the four at £25 each or £90 for all four. Each session takes place 6 – 9pm at Heaton; Session 1 will be Day Skipper level with tides at standard ports. Session 2 will be advanced with secondary ports, Session 3 Tidal streams. Session 4 will go through examples and homework set from previous sessions. Also to be explored are the less common e.g tidal coefficients
PRACTICAL COURSES
All local courses take place on the school boat, a quality 36 foot Hallberg Rassy, well known for its comfort and steadiness afloat. Properly equipped with modern electronics, the preferred wheel steering and comfortable, recently replaced, bunk cushions you will be well set up to handle whatever may come your way. Courses are fully inclusive, except for a kitty contribution towards drinks onshore.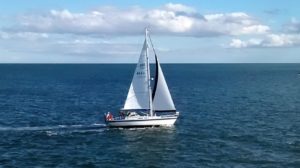 PRACTICAL CREWING My version of RYA Competent Crew. Three days, 0930-1700hrs onboard for three persons. 3:1 private tuition and you will be up to the Comp Crew standard. No experience necessary. Cost £275. (£375 weekends)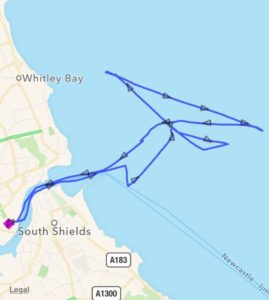 DAY TRIPS. 'Taster' days run throughout the season with the aim of having a pleasant day out on the water. You can see whether yachting is for you at modest cost. Trips operate out of Royal Quays 0930 – 1700hrs. Cost £50 weekday & £70 weekend )  
RYA COMPETENT CREW  A 5 day, live aboard, course where you will learn 'the ropes' and to become a useful crew member. A good start to, perhaps, a lifetime boating. Cost £595. May 13 – 18th, June 3 – 8th, 31st July – 5th August & others to emerge  Course Review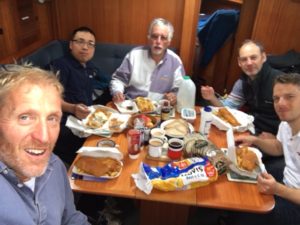 RYA DAY SKIPPER PRACTICAL  The key to bareboat charter, this course aims to get you to the ability ' to skipper a small cruising yacht safely by day in tidal waters with which the student is familiar'. Then you can be let loose to find your own adventures and provide endless anecdotes for you to enjoy telling. (The caption shows the June victims enjoying fish & chips on the final day) Cost £625  April 2018 22 – 27th (FULL), May 13 – 18th, June 3 – 8th, 31st July – 5th August & others to emerge 'I was pleased with the way the course was organised, the instructions for preparation and attending, the fact that you were there waiting for me when I arrived, and your welcome both before and after we boarded.' – Hassall. Course Review by Tim Edwards For a murky glimpse of a night sail try Night Sail 
RYA COASTAL SKIPPER PRACTICAL  The 'top of the range' RYA practical course providing greater challenges to get you up to the standard to skipper a cruising yacht safely by day and night. A sample requirement for chartering a yacht on the Clyde; 'Skippers must hold/be experienced RYA Coastal practical or Yachtmaster practical when sailing within the Clyde. Outwith the Clyde – Yachtmaster practical'. Cost £625  April 14 – 19th. This is likely to be the only one available during 2018.
RYA START YACHTING  A two day course for beginner groups, which can be the 'start' of greater things. You live onboard for two days and visit another marina, away from Royal Quays. Cost £230.
INTERNATIONAL CERTIFICATE OF COMPETENCE (ICC)  This can be done on the same course as Day Skipper/Competent Crew. Cost £625 with dates as above. Alternatively I can test you on your own boat at much cheaper cost. Individual quotations are given for this which will be from £225 for one day, own boat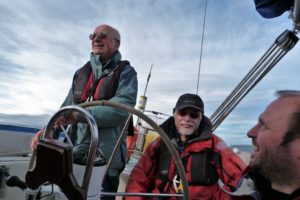 Friday 13th and Sailing!
No superstitions here from Franek, Roxy and hubbie Graham, Michael and Dad (helming).  They should have read my Newsletters and known what to expect. The wind forecast F5-7 went up, up again to Force 7 and gusts of more, indeed a maximum of 48 knots for the day. A Force 5 seemed calm! Image courtesy of David Stanley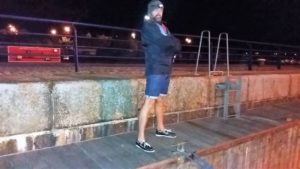 Who Wears Short Shorts?
There's always someone and here's John,  having declared he would wear shorts until October, was a first for Northumbria Sailing night sails – wearing shorts and shown here posing in the lock at Royal Quays. A fine pair of legs?…….
Later in the Course he climbed the mast and we all averted our eyes. 
Northumbria Sailing  on Video
The school yacht is an 11 metre Hallberg Rassy, a quality boat well fitted down below providing comfortable accommodation, stable at sea. Have a look at her entering the river Tyne under sail.  Lian at Tynemouth
Have a look at my Theory Training Centre with this video. Training
Onboard the Hallberg Rassy training yacht, by courtesy of Mark Batey and the kind co-operation of victims Andrew and Clive. See me giving berthing advice in trying to avoid the electric supply post Mark Batey Day Training 
RYA Competent Crew in the sun, by courtesy of Mark again Mark Batey Competent Crew
In a clip from 2013 you see the appreciation of Ladies on an RYA sponsored day at Royal Quays Ladies Day
Pieces of Eight – Knotty Problems Analysed
Sailor's Joy or Sailor's Misery
How would you interpret this forecast?
From last month this forecast was posted on MyWeather2 web page. Gruesome it was indeed;
Wind – Direction Northerly and the long fetch from this direction produces a high significant wave height. Being from the north it's likely to be cold. On an ebb tide there will be a 'wind against tide – rough ride' scenario adding to the wave heights.
Wind Strength – Force 7/8 with gusts of 9, a gale.
Wave Height – ranging from 3.2 metres to 5.3 when a wave height equal to the beam of the boat, in my case 3.5m, can capsize of caught beam on. 4 – 6m is classified as 'Very Rough', and from 6m 'High' (then 'Very High' and, finally, 'Phenomenal' for the masochists).
Temperature – +4°C becomes -3°C in the high wind chill factor, with wintry showers thrown in.
Clearly this is a no-go for small boats, but it's not always so clear and decisions have to be made. Wave heights were classified as rough at times on my Ocean Qualifying Passage, but we were sailing with the wind towards the Canaries and it was warm! 
Specialist Courses

    

 
RYA VHF This important Course is available in class, online or private tuition. Don't be caught without a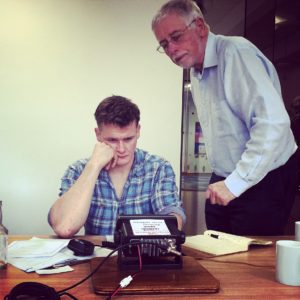 proper licence as you could be fined up to £5,000, plus 6 months inside, plus equipment confiscation – yes it's very severe! At Northumbria Sailing  you will receive tuition one per training set. As you will be assessed for practical skills as well as theoretical I think it's advisable that you have every opportunity to familiarise yourself with the equipment. Next sessions;  Daytime; 15th January, 5th February Cost £110 plus £60 to RYA.  Also available One to One at £175 and online at £85 to include manual. Assessment £60 extra.  Try these links. RYA Online VHF Radio  and RYA Online VHF video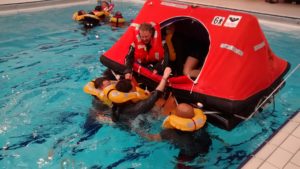 RYA BASIC SEA SURVIVAL. A must for all sailors and a very proactive time in the, warm, swimming pool. You will learn about general safety onboard as well as survival in the water. Last April we had a very enjoyable session at a school in Heaton and this will be repeated at some time in the future, according to demand Cost £125 or £110 if in a group or family.  RYA Basic Sea Survival and a video Wet in the Pool
RYA RADAR Are you safe using your set? Can you properly identify a collision situation? If you have radar you are required to know how to use it properly and could be held responsible if an incident was to occur.  Day or two evening courses. Cost £120, plus £9.75 to RYA. All Day; 19th January
CEVNI test for the Inland waterways endorsement to your ICC. Done online, cost £25
RYA Essential Navigation Online. Do this starter course on your own laptop. A good introduction to the theory part of sailing, with yacht or power boat. Cost £95 plus £28 (includes instruments) to the RYA
RYA FIRST AID. All day for the RYA certificate, valid three years. Be prepared for a full day's activity with lots of practical demonstrations and active participation – no going to sleep here with Simon!. Cost £75, £95 with Cat C drug endorsement, + £7 RYA Pack. Next session; 7th February
Accident Alley
A section to draw attention to accidents and what we can learn from them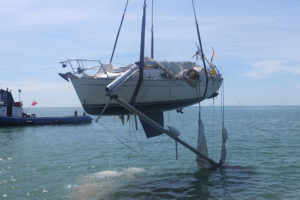 Orca  collision in clear daylight – yachtsman died
The dredger Shoreway and the sailing yacht Orca collided 7 miles off Felixstowe. Damage to Orca was catastrophic and it sank within minutes of the collision. The yacht's skipper was rescued but his wife could not be found. There was no damage to Shoreway.
Orca's skipper saw Shoreway when it was in the deep water channel outbound from Harwich Haven. Orca was under sail returning towards its marina berth in Harwich Haven. The skipper assumed the dredger would remain in the deep water channel and decided to engage his autopilot and go below for a short period. At this stage Shoreway was approximately 1.6 miles away and from its aspect, the skipper assessed there was no risk of collision. However, Shoreway altered course to leave the deep water channel soon after, placing Orca on a collision course. Despite the clear visibility and all navigation aids being available, the officer on watch on the bridge of Shoreway failed to see Orca until the collision was unavoidable.
The MAIB investigation found that the vessels collided in good visibility as neither the chief officer, who was alone on the bridge of Shoreway, nor the skipper of Orca, who was below deck in the cabin, were maintaining a proper lookout in the period immediately prior to the collision.
Due to the good visibility, the officer on watch on Shoreway was not using his radar and had not seen the target of Orca that had been visible on his screen for 11 minutes before the collision Orca
Victims (all) at Sea
Bill Hill is an adventurous sailor who regularly sails a variety of areas. This time, part of his week was spent stormbound in the English Channel. Rarely do images show the sea strength, but this is one. Bill is now studying Yachtmaster Ocean Theory and it looks like he has his eyes on the 'top of the range' Ocean ticket. An excellent, detailed, report on his trip can be followed on this link. Bill Hill
Peter MacLaren is admired by myself for, despite his advancing years, being determined to achieve his Day Skipper ticket. This he successfully completed last July with my encouragement to go out and test his abilities without anyone more experienced onboard. Here he is at the helm in the Clyde, although Eric is a bit grim faced! Over to Skipper Peter; 'We are all back in one piece. The weather was a bit marginal at times. Yesterday (Sunday) morning we had a forecast for Tarbert of  17-18 knot winds but when we got out into lower Loch Fyne it was blowing Southerly up to 30 knots with quite big waves so a lot of crashing and banging through it all (just main (2 reefs) + engine) and the crew feeling a bit queasy. (I was helming and at one point managed to fall over and in the confusion my life jacket got inflated.) Anyway we got into the west Kyle on a broad reach and (not having found an opportunity to rig a preventer) tacked our way up, doing a couple of gybes. Then of course we ran out of wind and motored past the ferry then the wind picked up again and we had a really nice sail down the east Kyle, and across the Firth of Clyde back to Largs in a southerly F5 – although when we got to the fuel berth it was westerly. We seemed to get in OK (as you instructed) although we had to berth downwind. Lesson: don't have a berth next to the fuel berth; we didn't bump anybody but I am sure it happens!
Friday afternoon we sailed Largs – Port Bannatyne – found helming a wee bit tricky because (as we eventually worked out) with just one reef we had too much sail up, but with two reefs and about 25% of the genoa everything seemed to settle down. For the last mile we were back to full sails and tacked gently in towards the marina. Our original plan was to sail down to Troon on Saturday but due to forecast Southerly and heavy seas we went round the Kyles to Tarbert. We even stopped off to anchor (just for the exercise and a cup of tea) in Kilbryde Bay which seemed to go OK although it was a flat calm so not exactly testing. Tarbert is a nice spot and very sheltered. Dined at the Starfish restaurant.
Conclusions:
1.       The crew (Marcelo, Eric and my step-son in law, Rob) were very amenable and competent so it was a very happy ship
2.       I am really pleased to have been blooded as a day skipper – thank you for encouraging me to do that – even though it was just a short trip
3.       Being skipper is different – you are responsible all the time, even for the mistakes of others, so you can never switch off. Also although you discuss with the crew you have to ultimately make all the decisions and there is nobody leaning over your shoulder to keep you right or reminding you when you forget something. (I know these are rather obvious points but they are now imprinted.)
4.       We had a couple of slightly hairy moments – (a) not paying attention in the west Kyle we got into shallower water than intended (but fortunately didn't ground); (b) helming was sometimes a bit difficult and the boat seemed to have a will of its own at times – we even managed an involuntary 360deg turn, but recovered'.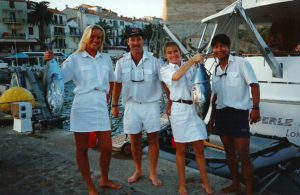 Joanne Sime second from right, a much junior version than today seen here holding a fish in Corsica. In those days Joanne's life consisted of April to October in the Med sailing/hostessing and November to March skiing (when she wasn't looking after a boat, meaning a luxury yacht). What a great lifestyle, especially as she is relating this during a five hour theory session with myself on Tides and Charts – how the great come down to earth! Perhaps she will earn her tickets and sail off into the blue yonder (and leave me behind with my tides and charts….) Joanne has the last word; 'Wish I could go back in time and do it all again'.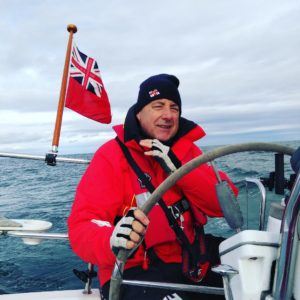 Phil Butler shown here crewing for a delivery from Seahouses to Royal Quays for the winter. Phil is a 2017 Day Skipper and this gave him good sea mileage on an unfamiliar boat.
Next stage for Phil is his Coastal Yachtmaster theory starting in January where he will be joining other existing, and surviving, victims such as Marcelo, Emma, Peter, Greg, Orang and John.
.
Boat Delivery
Just bought a boat and wondering whether to have it delivered or trucked? You can contact us for a feasibility assessment and quotation for cost.
Yacht Skippering
There are times when you might feel that your 'ticket' and/or experience will not be adequate for a safe holiday. Last summer I had such a commission enabling a larger yacht to be chartered and to sail to more adventurous places. It worked and we all had a great time and look forward to repeating the experience exploring a more challenging area in 2017.
New Development by Royal Quays
Cussins is building right next to Royal Quays, overlooking the River Tyne and the disused lock. It has been wasteland for years and I can imagine the new Herb Garden café/restaurant will do well out of it too. Prices start from £174,950 for a 2 bedroomed apartment to £319,950 for a 4 bed Townhouse. Call them on 01665 600800 or email; sales@cussins.com
Reader's Links
A new section featuring links of a maritime interest sent to me.
Nigel Hierons saw this news item about a flare  Flare in recycling explodes
Franek Richardson sent this  Time Lapse
Phil Butler mentions the two women rescued after 5 months at sea in the Pacific.
Try me on Facebook for lots more images Facebook
For more information contact me via my web page
Sail Safely the RYA Way