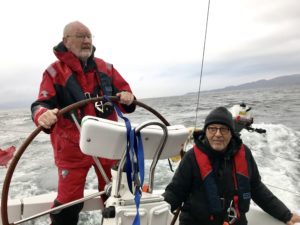 Peter MacLaren is admired by myself for, despite his advancing years, his determination to achieve his Day Skipper ticket. This he successfully completed last July with my encouragement to go out and test his abilities without anyone more experienced onboard. Here he is at the helm in the Clyde, although Eric is a bit grim faced! Over to Skipper Peter; 'We are all back in one piece. The weather was a bit marginal at times. Yesterday (Sunday) morning we had a forecast for Tarbert of  17-18 knot winds but when we got out into lower Loch Fyne it was blowing Southerly up to 30 knots with quite big waves so a lot of crashing and banging through it all (just main (2 reefs) + engine) and the crew feeling a bit queasy. (I was helming and at one point managed to fall over and in the confusion my life jacket got inflated.) Anyway we got into the west Kyle on a broad reach and (not having found an opportunity to rig a preventer) tacked our way up, doing a couple of gybes. Then of course we ran out of wind and motored past the ferry then the wind picked up again and we had a really nice sail down the east Kyle, and across the Firth of Clyde back to Largs in a southerly F5 – although when we got to the fuel berth it was westerly. We seemed to get in OK (as you instructed) although we had to berth downwind. Lesson: don't have a berth next to the fuel berth; we didn't bump anybody but I am sure it happens!
Friday afternoon we sailed Largs – Port Bannatyne – found helming a wee bit tricky because (as we eventually worked out) with just one reef we had too much sail up, but with two reefs and about 25% of the genoa everything seemed to settle down. For the last mile we were back to full sails and tacked gently in towards the marina. Our original plan was to sail down to Troon on Saturday but due to forecast Southerly and heavy seas we went round the Kyles to Tarbert. We even stopped off to anchor (just for the exercise and a cup of tea) in Kilbryde Bay which seemed to go OK although it was a flat calm so not exactly testing. Tarbert is a nice spot and very sheltered. Dined at the Starfish restaurant.
Conclusions:
1.       The crew (Marcelo, Eric and my step-son in law, Rob) were very amenable and competent so it was a very happy ship
2.       I am really pleased to have been blooded as a day skipper – thank you for encouraging me to do that – even though it was just a short trip
3.       Being skipper is different – you are responsible all the time, even for the mistakes of others, so you can never switch off. Also although you discuss with. Also although you discuss with the crew you have to ultimately make all the decisions and there is nobody leaning over your shoulder to keep you right or reminding you when you forget something. (I know these are rather obvious points but they are now imprinted.)
4.       We had a couple of slightly hairy moments – (a) not paying attention in the west Kyle we got into shallower water than intended (but fortunately didn't ground); (b) helming was sometimes a bit difficult and the boat seemed to have a will of its own at times – we even managed an involuntary 360deg turn, but recovered'.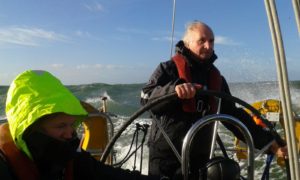 Bill Hill is an adventurous sailor who regularly sails a variety of areas. This time, part of his week was spent stormbound in the English Channel. Rarely do images show the sea strength, but this is one. Bill has recently completed his Yachtmaster Ocean Theory successfully and it looks like he has his eyes on the 'top of the range' Ocean practical ticket. An excellent, detailed, report on his trip can be followed on this link. Bill Hill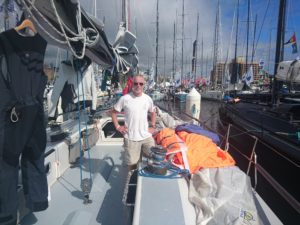 John Williams By way of background I was involved in dinghy racing for more than 25 years sailing mostly skiffs and other performance dinghies but I guess you reach a stage where one becomes less competitive as the physical demands write cheques the body can't cash. I had in parallel sailed bigger yachts both as racers and as cruisers but as I sailed dinghies less I moved into generally speaking, fast yachts. I realised fairly early on in this process that I would never be able to afford to buy and run the boat of my dreams so took the decision to spend the money saved on the running costs of a yacht on doing interesting races on interesting yachts.
After a few years of this I put on my bucket list to do all the classic ocean races over 600 nm and recently completed the last one. Briefly, and in the order they were done as not all of them occur every year:-
Sevenstar Round Britain and Ireland Race. 1800+nm, category 1. Goes round everything except Rockall. One of the toughest, high retirement rate, lots of things to bump into, took over 11 days with serial gales all round the course. Boat – Hanse 53
Caribbean 600. 600+nm. Cat. 3. Course around 11 Caribbean islands starting from Antigua. If you only do one race in the Caribbean do this. Guaranteed 25kt winds and 28 deg.C. sea temp. and the bars stay open 24/7 as you finish. Boat – Volvo 70
Rolex Fastnet Race. 600+ nm. Cat. 2. Leave Cowes, go west to Fastnet Rock off S.E. Ireland and then back to the finish in Plymouth. Huge entry (200+ boats), navigationally demanding. Boat – Sigma 38
Rolex Middle Sea Race. 600+ nm. Cat. 3. Start under the battlements in Valetta Harbour, Malta. Sail North towards Sicily, through the Straits of Messina, round Stromboli, round the rest of Sicily, then South round a few more islands and finish back in Malta. Boat – Beneteau 47.7
Volvo Round Ireland Race. 700+ miles. Cat. 2. Start in a small club in Wicklow just South of Dublin and sail all the way round Ireland. Navigationally challenging but the greatest hazard is probably the hospitality of the Wicklow Sailing Club before you ever start. Boat – Class 40
Rolex Sydney Hobart Race. 600+ nm. Cat. 1. Australian classic and a big deal over there. Course is relatively straightforward but technically complex from a weather and current viewpoint. The start in Sydney Harbour is manic but Hobart is a great place to finish. Boat – Custom 63'.
All the above races come with a qualifying distance requirement, in the case of Cat. 1 its 500 nm. minimum racing on the same boat you are going to do the race on. Additionally for races like the Round Ireland you usually have to sail the yacht there and back which adds another 600+nm.
For many of these races I've been navigator which is always interesting even if you don't get much sleep and you'd be surprised how basic the nav. equipment can be even on expensive yachts with the latest sail wardrobe. For this reason I always take my own laptop (with up to date charts and software) a good PDA, separate GPS, sometimes a portable AIS, a charging regime that works on board and everything that can be is waterproofed.
Ian & Ellie Davies give an update on the travels of Software Mistress;
'In 2014 we left Blyth and North up to the Caledonian canal via Peterhead and Whitehills.
Then having escaped the horrible North Sea we did the usual haunts Oban, Tobermory, Canna and ambled up as far as lovely Plockton. The season was coming to an end and due to engine problems we headed South later than planned; originally we were planning on Portugal, but erred on the side of safety and, as suggested by some French friends, decided to spend the winter in Quiberon.
Our route took in North and South Ireland then Milford Haven to Newlyn. It was here that we spotted kingfishers on the sea for the first but not last time. We then pushed off for Brest, interesting lesson learnt during the night was
that some trawler skippers cover their ground box fashion, this means that you may encounter the same boat coming out of the murk on several occasions!
From Brest we entered Concarneau at night, manoeuvring into the last space available to find out in the morning that the French did not know how I got in as it took four people with warps to get us out.
South Brittany, Belle Isle and finally our home for the winter, Port Haliguen, where we spent a mild but wet stay.
The engine finally had to go so we were towed by our French friend John Francoise to La Trinite where we hauled out to receive a lovely new engine and painted bottom and slipped her in ready to return to the UK.
2015 we retraced our steps but this time headed further North and stopped at Stornoway. Enough was enough so we leisurely sailed back to Ardrossan where she will stay for the winter.
Lessons learnt, never trust the Met Office but the French equivalent is good with regular updates with accurate wind speeds and swell heights over many different types of area and coastline.
If we can be of any assistance to your other Sigma 362 students, we would be pleased to help'