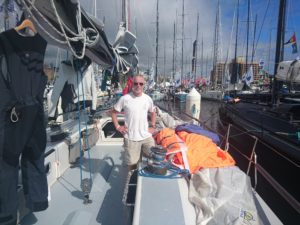 Super 6 Classic Races
                               by John Williams
By way of background I was involved in dinghy racing for more than 25 years sailing mostly skiffs and other performance dinghies but I guess you reach a stage where one becomes less competitive as the physical demands write cheques the body can't cash. I had in parallel sailed bigger yachts both as racers and as cruisers but as I sailed dinghies less I moved into generally speaking, fast yachts. I realised fairly early on in this process that I would never be able to afford to buy and run the boat of my dreams so took the decision to spend the money saved on the running costs of a yacht on doing interesting races on interesting yachts.
After a few years of this I put on my bucket list to do all the classic ocean races over 600 nm and recently completed the last one. Briefly, and in the order they were done as not all of them occur every year:-
Sevenstar Round Britain and Ireland Race. 1800+nm, category 1. Goes round everything except Rockall. One of the toughest, high retirement rate, lots of things to bump into, took over 11 days with serial gales all round the course. Boat – Hanse 53
Caribbean 600. 600+nm. Cat. 3. Course around 11 Caribbean islands starting from Antigua. If you only do one race in the Caribbean do this. Guaranteed 25kt winds and 28 deg.C. sea temp. and the bars stay open 24/7 as you finish. Boat – Volvo 70
Rolex Fastnet Race. 600+ nm. Cat. 2. Leave Cowes, go west to Fastnet Rock off S.E. Ireland and then back to the finish in Plymouth. Huge entry (200+ boats), navigationally demanding. Boat – Sigma 38
Rolex Middle Sea Race. 600+ nm. Cat. 3. Start under the battlements in Valetta Harbour, Malta. Sail North towards Sicily, through the Straits of Messina, round Stromboli, round the rest of Sicily, then South round a few more islands and finish back in Malta. Boat – Beneteau 47.7
Volvo Round Ireland Race. 700+ miles. Cat. 2. Start in a small club in Wicklow just South of Dublin and sail all the way round Ireland. Navigationally challenging but the greatest hazard is probably the hospitality of the Wicklow Sailing Club before you ever start. Boat – Class 40
Rolex Sydney Hobart Race. 600+ nm. Cat. 1. Australian classic and a big deal over there. Course is relatively straightforward but technically complex from a weather and current viewpoint. The start in Sydney Harbour is manic but Hobart is a great place to finish. Boat – Custom 63'.
All the above races come with a qualifying distance requirement, in the case of Cat. 1 its 500 nm. minimum racing on the same boat you are going to do the race on. Additionally for races like the Round Ireland you usually have to sail the yacht there and back which adds another 600+nm.
For many of these races I've been navigator which is always interesting even if you don't get much sleep and you'd be surprised how basic the nav. equipment can be even on expensive yachts with the latest sail wardrobe. For this reason I always take my own laptop (with up to date charts and software) a good PDA, separate GPS, sometimes a portable AIS, a charging regime that works on board and everything that can be is waterproofed.