Try this RYA link for a synopsis of Shorebased Courses  Shorebased
Restricted (VHF only) Radio Operator's Certificate
You are required to have an Operator's licence if you own a marine radio, either fixed or hand held and this one day Course will help you gain this qualification.
During the Course you will be instructed in the basics of radio operation, frequencies, distress, Digital Selective Calling and other emergency equipment. A RYA online option is also available.
Ofcom; 'Licensing ensures that radio equipment used onboard ships does not cause undue interference to other communications and is operated by competent persons'
Breach is a criminal offence, maximum fine £5,000 and/or 6 months plus equipment confiscation (even more on trial!).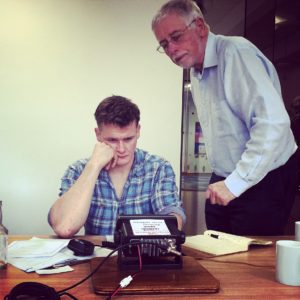 Northumbria Sailing instructs on a one person per VHF set basis, giving you a proper chance to play and learn. This is a 7 hour Course, followed by a short written test. RYA VHF Radio
This Course take place over two evenings or a full day. Cost £110 per person, to include the 98 page RYA manual, but excluding the £60 payable to the RYA who issue the licence. Daytime; 20th March Evenings; February 19+26th  Full Course and Evening dates by arrangement, if the diary permits (could be at your home or Club). One to One also available at £175. 'I would recommend you to others – Tom'.
Online VHF Course with radio simulator This Course can also be done at home. Upon completion of the online course you will obtain a certificate but will still need to pass the Practical and Theory test if you require the SRC. You may already have your lifetime certificate but would like to revise and update your knowledge for your own safety. Now you can do this without having to go through a real time test . Cost £85 to include RYA Manual. Try these links. RYA Online VHF Radio  and RYA Online VHF video
RYA Radar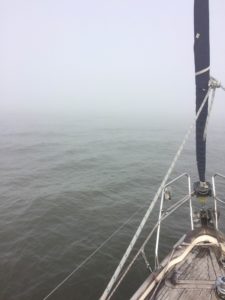 The International Regulations for Preventing Collisions at Sea requires that proper use be made of radar, if onboard. Thus if a skipper breaks the Rules he could be prosecuted under The Merchant Shipping (Distress Signals and Prevention of Collisions) Regulations 1996. The Marine Accident Investigation Branch criticised both skippers' use of radar following a collision;  Collision between Gas Monarch and Whispa
The message is clear – if you have radar you must be able to use it properly.
This is a one day, or two evening, Course, 0930 to 1700 or 1730 to 2100, aimed at increasing your knowledge of radar as an aid to navigation but with particular emphasis on collision avoidance. Candidates will have an opportunity to use a simulator. The relative merits of Radar and AIS will also be discussed. RYA Radar Day Course
Cost £120 which includes the RYA booklet, but excludes the RYA Pack, currently £10. Next date; all Day; 16th March
RYA First Aid
Are you able to attend to a medical emergency whilst at sea? Even GP's attend this Course to be trained in such situations. The Course lasts one day and you will need to be prepared for an active time, to include on the floor examinations. The RYA certificate lasts three years and is required for Yachtmasters and Instructors. Course notes are provided. There is an optional endorsement for drugs (not as bad as it sounds). Cost £75 & £95 with the drugs endorsement, + £7 RYA Pack. Next session; 7th February Group sessions can be privately arranged.  RYA First Aid Day Course
RYA Basic Sea Survival
This Course is not normally available in the North East and should be considered essential for any serious sailor. Can you climb into a liferaft from the water or do you know how well you would really fare in the water without  a lifejacket?
Starting with about four hours of tuition and followed by two in the pool of a school in Newcastle upon Tyne, it's a practical Course with a capital 'P'.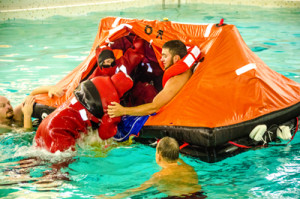 Cost £125 per person or £110 each, for a family of two parents and two or more children. Children aged 12 – 17 with sailing experience are encouraged to come when with parents. RYA Basic Sea Survival and a video Wet in the Pool
Diesel Engines
I frequently receive requests for help with their boat engine. They have seen the RYA Diesel Engine Course and wonder whether I can offer this. I am now in the process of preparing for this RYA to start early summer of 2018. Let me know if you are interested.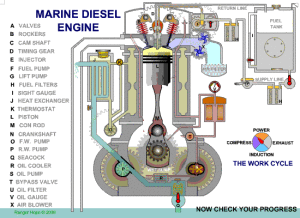 For this helpful image I am grateful to engineer Ian Ainsworth. Click to see it's operation and look for the bits which interest you first.
Here we see Tony standing by my old engine which he extracted with the aid of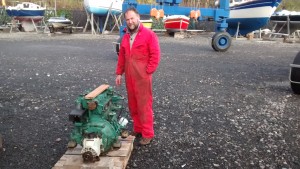 Royal Quays crane. He will be installing the new one later in January.
Anyone interested in having work done on their engine or some instruction should contact us and we will direct you to either Storrar Marine or Tony depending on which would be most suitable.